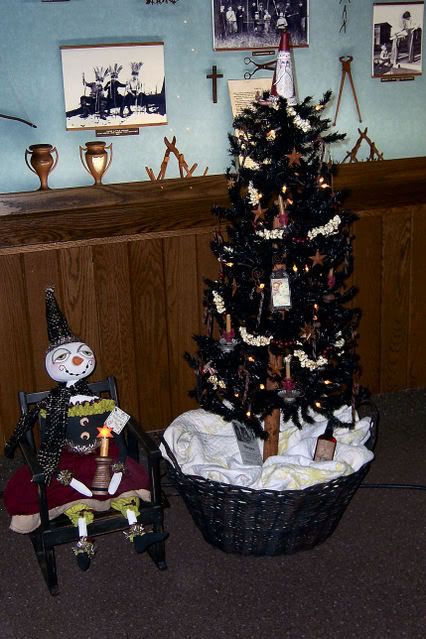 I hope that if you live in the area of Tuscarawas County in Ohio that you can stop by the Union Hospital Auxiliary's Tree Festival which is held at Arther's Carvings in Dover,OH. The festival runs from Nov. 10th-18th from 11:00am to 8:00pm daily. Over the years, Warther's Christmas Tree Festival has raised more than $100,000 for the Union Hospital Auxiliary, which in turn, donates money to Union Hospital for the purchase of patient care equipment. So, if you get a chance to stop over there, please do. The trees will be on sale the entire week and you can also vote on your favorite large and small tree. This is a wonderful way to make a donation to the hospital and get a beautiful tree too!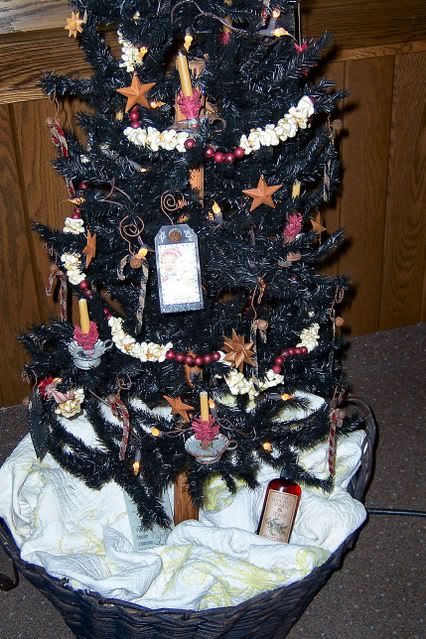 Our tree features hand made paper moravian stars dipped in wax, moravian candles in little clip on holders, my hand stitched tags and chenille candy canes hung with little rusty wire hangers w/ rusty jingle bells, little rusty stars, a popcorn and berry garland, and my little santa tree topper cone. We painted the grapevine laundry basket black and there is an old tattered lime green and white quilt tucked inside the basket. We also included a bottle of Pines & Pears room spray to make it smell yummy! And oh! I almost forgot! I made the silicone dipped lights dusted with cinnamon............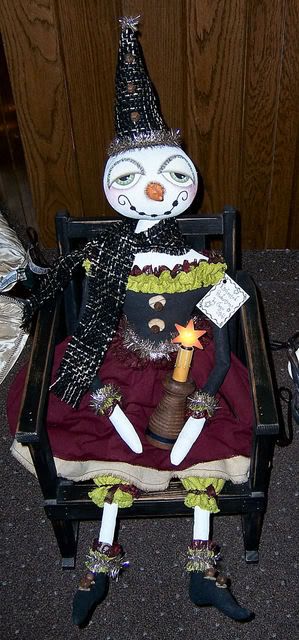 and then there is the icing on the cake..........Joyce's gorgeous snowgirl sitting in the hand made child's rocker, holding one of our bobbin lights with a silicone star bullb. You should have seen Joycee down on the floor sewing the last finishing touches on her dolly. I should have taken a picture of her! Darn it! Thanks so much for doing this with us Joyce! Your snowgirl just MAKES this tree! Without her, it would be just a poor little lonely tree........................

And if you do happen to stop by..............please vote for our tree! =o)
Hugs! *Lori